On July 6, Iron Palm Tattoos & Body Piercing and Senior Artist JR Outlaw Accepted a Guinness World Record Award for the Largest Memorial Tattoo in the World
ATLANTA, July 19, 2023 (Newswire.com) - Iron Palm Tattoos & Body Piercing collaborated with Atlanta Ink to create the largest known synthetic skin tattoo in the world and the ultimate tribute to late rapper and musician Takeoff. Kirsnick Khari Ball, aka Takeoff, was a member of the two-time Grammy-winning music trio Migos along with Atlanta natives Quavo and Offset. JR Outlaw, senior artist at Iron Palm, designed and tattooed the electrifying creative.
Humble Beginnings:
The project began with a simple conversation between Iron Palm owner Marlon Blake and Atlanta Ink owner Christian Verrette. They believed a record-breaking tattoo could be inked on homemade synthetic skin normally used for practice. Deciding to move forward, the next step was finding someone skilled enough to ink the project. The answer: Iron Palm's own JR Outlaw.
Research, Development & Creating the Tech:
Making the skin was an arduous task. Likewise, the silicone tattoo skin had to be hand-mixed and perfectly set. Justin Thomas, who owns 3D-printing silicone company Mr4gx, agreed to help make the skin. Blake, together with Verrette, assisted Thomas until they discovered a perfect recipe for making the faux skin canvas. Previously made samples had imperfections, tears, and bubbles, making them unsuitable. Over $30,000 of silicone material was exhausted during the R&D of the meters-large tattoo skin recipe.
Finishing the Tattoo:
After the silicone tattoo canvas was molded, the work of framing and coloring the artwork began. Accordingly, Outlaw framed, stenciled, and tattooed the 7.395 m² (7' X 12') giant artwork on the handmade canvas. The completed tattoo project took months to finish. Later, Guinness World Record adjudicator Michael Empric measured the giant tattoo and declared it a record breaker. Iron Palm Tattoos' relentless pursuit of excellence had resulted in a dynamic and unforgettable creation that transcends boundaries of traditional body art.
When asked why he chose Takeoff, Outlaw said, "I just want people to reflect on him as a person and his legacy in music and in the city."
The creators want to move the artwork to a well-known museum or gallery pending sale. A portion of proceeds from the sale will go to the Donate Your Junk electronics campaign benefiting those needing modern electronics in developing countries.
About Iron Palm Tattoos:
Iron Palm is the best-known and most-reviewed multi-style tattoo shop in downtown Atlanta, Georgia. Undeniably Atlanta's only late-night tattoo shop, it is open 1 p.m.-2 a.m. Walk-ins are welcome.
Contact Information:
Marlon Blake
Owner: Iron Palm Tattoos & Body Piercing
[email protected]
1 404-973-7828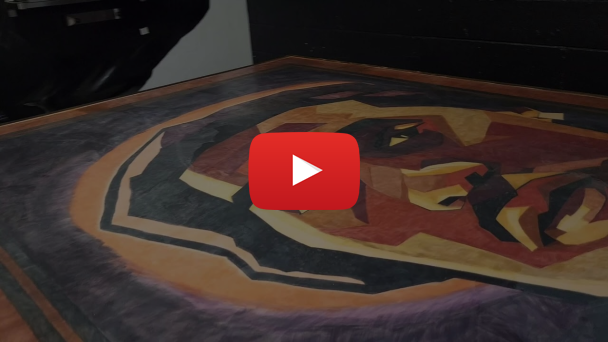 Related Files
takeoff-memorial-portrait-tattoo-by-jr-outlaw-enters-guinness-book-of-world-records.jpg
iron-palm-guinness-world-record-certificate-for-7-meter-tattoo-of-takeoff.jpg
Original Source:
Iron Palm Tattoos Shatters Guinness World Record With Synthetic Skin Tattoo Honoring the Late Rapper Takeoff